During 2012, I plan to spend a lot more time doing what I love and very little time doing what I hate (or don't like so much), which extends to my network marketing business.  There is so much to love about network marketing, yet at the same time network marketing can have its challenges.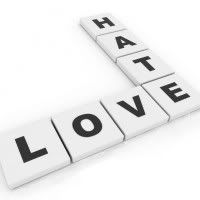 It all starts with picking the "right" network marketing opportunity for your strengths and being crystal clear on what you need to do to be successful, so there are no surprises.  It also means that you need to have carefully vetted the company and compensation plan so again, you don't find any surprises that are detrimental to your financial success.
In evaluating network marketing opportunities, I personally try to avoid the companies where I need to "do" or accept the characteristics on my "hate" list and embrace the ones on my "love" list.  So what is on my personal "hate" list?
6 Things I Hate (and avoid) about Network Marketing
Convincing people to invest money to "join an opportunity"

Having to constantly "recruit to earn"

Being stuck with the expense of monthly auto-ships of product I don't need or want

Monthly fees for websites or marketing support

The risk of damaging personal relationships and losing personal credibility if others "lose money" or have a bad experience with my company

Compensation plans that are structured with break-aways or that "level-out" when people you sponsor and mentor achieve promotion levels
Are you surprised by my "hate" list?  Do you consider these characteristics to be "status quo" for network marketing?  Well, they don't have to be.  There are opportunities out there that do not have these characteristics.  You just need to look for them.  Here are some of the things I embrace:
6 Things I Love about Network Marketing
Building a business off of a product necessity

Being able to offer people of all different backgrounds an income opportunity, without ever asking for money

The power of leverage and finding a business that can grow and duplicate so quickly, I can't stop it

Getting paid 5 times per month

Knowing that if I stop working tomorrow, my residual earnings are protected with infinity coding

Knowing that helping others be successful benefits me as well
The important thing about finding the right "fit" with a network marketing opportunity is that you are honest with yourself about what you like to do and what you are willing to do to grow your business. You want to be realistic with yourself as to what it's going to take for you to be successful and what you are willing to do or spend to achieve success.  You need to be able to "see" yourself doing the business and envision your success.
There are lots of network marketing opportunities out there, so find the one that allows you to be true to your strengths and values.
To Your Success!
Courtney Day
203-541-0961
network marketing