How well you handle rejection in network marketing can greatly affect your success or lack of success.  As a network marketer you are in a form of sales.  Some people will want what you are "pitching" and will "buy" (say yes) and others will reject what you have to offer and say "no." This is a fact you have to accept. Some will reject your proposition.
How do you handle this? Does getting a "no" tend to bring you down and make you feel like they rejected you?  Do you get discouraged? Do you take it personally?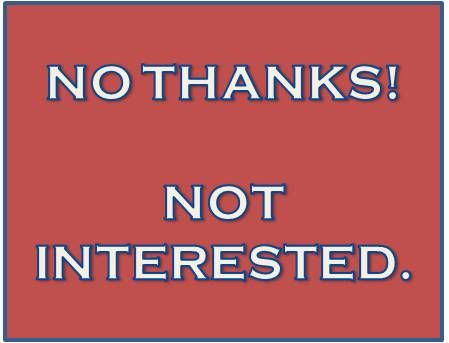 Rejection in network marketing is a fact of the business and is going to be frequent.  Network marketing is a numbers game. You need to learn to live with rejection, cope with it and move on.  You absolutely cannot afford to let rejection in network marketing set you back from achieving your goals.
How do you experience rejection? This will depend a bit on your personal context. In other words, who are you? What is your circumstance? How do you view yourself? What is your life and business history? I know these are big thoughts, but let's look at it rationally.
Be Self-Aware and Be Positive
Some people enter network marketing by less favorable circumstances―being fired from a job, laid off or down-sized. On the other hand, some may switch over from related careers with little or no difficulty in one's background. There is a big difference between the two life contexts.  Be self-aware. Know your personal life context.
If you enter network marketing coming from negative work circumstances you must affirm yourself: your right to work; your right to "sell," and your right to succeed! No one can take away your God-given right to work.  Know what you want to achieve with your network marketing business.
Face Rejection in Network Marketing With Optimism
Now face rejection in network marketing. You, the person, are not being rejected. Your work and livelihood are not being taken away either. What is being rejected is what you are selling. In simple terms, don't take rejection personally.
A major network marketing leader, whom I consider a mentor, says that every day he seeks to get 4-5 rejections to his network marketing opportunity. This is actually his GOAL for his daily method of operation!  Why?  Because he knows that for every 4-5 people who say "no," one will say "yes!"
Getting rejected means that he has worked hard that day!  In order to get rejected, he has had to reach out to people and expose them to his opportunity.  Referring back to the numbers game, he knows that if he does his job well and right, he will get some "yes's" along with the inevitable "no's."
Learn From the Rejection When Possible
Life and work is a learning process. There may be something positive you can learn from a rejection. Was there anything in your personal style of approach or in the exposure process that you should have done differently? Consider this ―but don't depressively ruminate―and move on with yourself and your work to make the next call.
Practice Being Rejected
I know you think this probably sounds crazy.  But it really helps!  You want to be like Teflon!  Rejection in network marketing will just slip right off of you.  Let yourself experience rejection.  Role-play rejection. You want to practice rejection so much that you live and breathe this split between your fundamental personhood and work; and the product, service and opportunity you are representing.
Line up some trusted friends, family or colleagues. Present your pitch, and beforehand ask them to reject. Get rejected over and over again. Do this on the phone and in-person. Know what to expect.  Know how to respond effectively to common questions or statements that are part of the rejection process. Role playing rejection will "desensitize" you to rejection in network marketing .  It also will help you learn skills that can turn a potential rejection around to a "yes."
Stay Positive
Please see that after rejection, you are still you; your work is still your work; and the rejection is only rejection of the product or service.  Keep positive. Move on!  Nothing feels better than finding the next person who eagerly wants to join your opportunity.
Desensitizing yourself to rejection in network marketing will inoculate you to: depression, inhibition, discouragement, withdrawal and other "wounds" experienced when rejection is intermingled with your person and perceived threats to your livelihood.  These negative forces can bring you down and knock you off your success track.
What I say after rejection is, "Next! Upward and onward!"
To your success!
Courtney Day
203-541-0961
rejection in network marketing